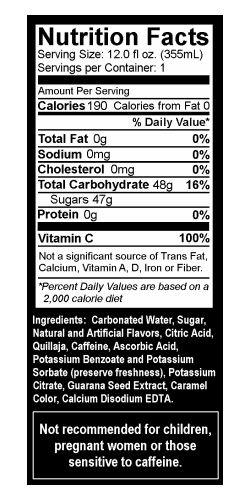 Nutrition Info Vitamin C: Good for the Booty
Not only does Vitamin C in SteamJack keep scurvy away, it helps your body build bones and ligaments as well as helps lower your blood pressure. Another key benefit of Vitamin C is that it is an antioxidant that helps protect the body. SteamJack has 100% of your daily dose of Vitamin C. Guarana: Energy Energy Energy
Guarana contains a substance similar to caffeine called guaranine. Guaranine stimulates the central nervous system and increases metabolism. Each Guarana bean contains 3 times as much caffeine as a coffee bean. Caffeine Information
There are 120mg of caffeine in a single bottle of SteamJack. At just 10mg per ounce, that is still less than what you get in a cup of coffee by at least 30% (according to the Energy Fiend). Gluten Free
SteamJack contains no grain-based proteins.